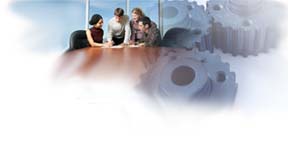 Achieve Measurable Results

Creating effective leaders, from the executive team to the new hire, will allow you to rapidly meet the needs of the changing marketplace, with ease. Further, high-performing teams will generate greater productivity gains. Rodin's Consulting programs are customized to create rapid development in the leadership skills, throughout the organization, in a way that is tailored to your business goals and objectives.
Create Leaders that Lead and Teams that Succeed
Inspire Visionary Leadership
Instill Teamwork and Commitment
Achieve Organizational Excellence
RESULTS ⇒ High-Performance Leadership
RELENTLESS EXECUTION™
Create alignment and cohesiveness within the executive team to insure that strategies and objectives are reached.
REFLECTIVE LEADERSHIP™
Lead others by example -pursue a vision, with passion, that will unleash the commitment and motivate the entire organization.
HIGH PERFORMANCE STRATEGY: COMPETING TO WIN™
Create a core ideology and define your organization's strategic direction to meet the challenges of the business environment. Set performance goals that focus on activities vital to your business' success.
RESULTS ⇒ Team Leadership
REAL TEAMWORK™
Chart the course for developing self-directed teams to create a high performing and cohesive workplace.
RESPONSIVE MANAGEMENT™
Empower others to reach their potential and contribute more productively to the organization.
REWARDING COMMUNICTAIONS™
Speak with integrity and foster mutual understanding through building relationships based upon trust.
RESULTS ⇒ Individual Leadership
RENEW ONESELF™
Achieve personal leadership excellence through a program of self-mastery, defining purpose and creating commitment to pursue one's goals.
RIGHT START™
Learn the essential skills of becoming a more valued and valuable member of the organization through proactive self-management.
READY-AIM-HIRE™
Attract and retain top talent, avoiding the disruptions of hiring the wrong person. Build an organization with the right people in the right positions.
PRINCIPLES OF PARTNERSHIP SELLING
Bridge your company's offerings and your customers' needs in order to build long-term, profitable relationships.
CORE SKILLS FOR SALES AND MARKETING
Master the sales process from lead-generation to closing by learning how to effectively communicate, plan, and leverage time, in order to create a sustainable sales funnel.