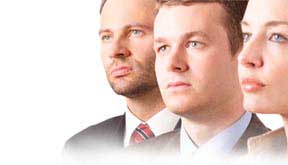 Assessments That Get Results

Employee assessments provide critical information that enables you to understand why your people think and behave as they do, on the job. This understanding leads to better allocation of human capital and maximizes the effectiveness of every employee.
Assessments at Work
Objectively measures job competency and performance
Defines training and development gaps
Managers become more effective at coaching, motivating and rewarding employees
RESULTS ⇒ Hiring Right
STEP ONE SURVEY II™
Evaluate job applicants for integrity, substance abuse, reliability, and work ethic to predict on-the-job performance. Provides structured interview questions that further aids in the objectively hiring the best candidates.
EMPLOYEE BACKGROUND CHECK™
Verifies critical resume information, including driving records and criminal history to avoid the risk of a poor hiring decision.
THE PROFILE XT - TOTAL PERSON ASSESSMENT™
Gain insights into the "total person" by measuring the job-related traits that predict success in the workplace: thinking and reasoning abilities, behavioral traits and occupational interests. Create ideal profiles for specific positions and easily match the best candidates to the jobs.
RESULTS ⇒ Developing Leaders
PROFILES CHECKPOINT 360™
Quantify a leader's competencies in 18 critical dimensions through the unique perspective of peers, managers, direct-reports, and customers. Accelerate performance improvement by rapidly identifying training needs.
LEADERSHIP LADDER™
Multi-tiered, self-directed leadership development program centered on critical leadership performance skills. Skill gaps are identified and then a customized, on-line training curriculum is formulated to close the gaps.
ORGANIZATIONAL MANAGEMENT ANALYSIS™
Evaluate the combined competencies of all the team members to provide insight into the overall strengths and deficiencies of the management team. Promote alignment with the corporate vision, mission, purpose, and strategic goals, amongst all team members.
RESULTS ⇒ Execution Efficiency
PROFILES PERFORMANCE INDICATOR™
Measure the five key personality factors and their impact on business success. Identify the best ways to lead, motivate and reward individual employees.
PROFILES TEAM ANALYSIS™
Improve team effectiveness by assessing 12 characteristics that impact team performance and collaboration. Learn to capitalize on individual team membersí strengths and quickly fill skill deficiencies.
PROFILES SALES INDICATOR™
Select, train and manage sales professionals by evaluating 5 key qualities the predict performance in seven critical sales behaviors.
CUSTOMER SERVICE PERSPECTIVE™
Consistently provide quality customer service by identifying and coaching key behaviors that influence positive customer relations.
Offered through a Strategic Business Partnership with Profiles International, Inc,, the recognized world leader in employement evalution and human resource management assessment tools.