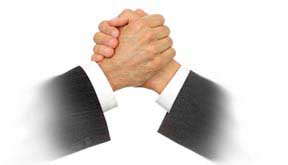 Principles of Partnership Selling The Art of Relationship Selling

High-performing organizations recognize the business value of partnering with their clients and customers to create and sustain relationships built on trust, integrity and mutual respect. This program illustrates the value of partnering with your "ideal" customers and puts into practice a 4-step process for developing win-win partnerships that yield higher profits.

This program dramatically re-orients the sales process on what is critically important to the customer; thereby insuring that the customer's needs are met with appropriate solutions in an efficient and professional manner.
Turn the selling process into a buying process.
RESULTS - BENEFITS:
Greater customer loyalty
Preferred supplier status
Higher repeat business
Provide value-added services
RESOLVES ISSUES WITH:
Peddling vs. providing solutions
Handling objections and closing the sale
Time management
Effective communication skills
WHO SHOULD PARTICIPATE?
Any sales or marketing professional that desires to achieve greater results.
Sales managers who are eager to improve their team's effectiveness.
Training managers involved in sales and market-development training.
Professionals involved in internal sales and marketing.
Consider this program when addressing new markets or offering new products.
FORMAT:
The format and content are customized to meet the specific objectives and outcomes desired. Typically, seven, ½ day workshops are delivered in a classroom setting. Accountability assignments are required to integrate new techniques into practice.

If desired, this program may be delivered in a retreat format with added team-building activities. If needed, several workshops may be conducted via Webcast meetings, to facilitate collaboration with geographically dispersed groups.

Workbooks, handouts and a recommended reading list are provided.