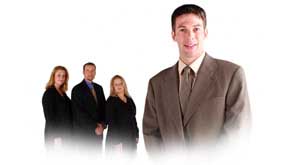 Results-Driven Manager

The high-performing manager or supervisor demonstrates the ability to get things done through motivating and empowering their teams; but also by positively influencing others throughout the entire organization. They are able to get results by harnessing the best ideas to reach the goals.
Manager as Motivator
Develops rapport and trust to form a collaborative work-place
Motivates performance improvement through coaching and mentoring
Hires and places the right people in the right roles
RESULTS ⇒ Essential Leadership Skills
LEADERSHIP LADDER™
Enhance leadership effectiveness through this multi-tiered, self-directed development program centered on 18 critical performance skills. Skill gaps are addressed through a customized, on-line training curriculum.
REFLECTIVE LEADERSHIP™
Lead others by example -pursue a vision, with passion, that will unleash the commitment and motivate the entire organization.
THE PROFILE CHECKPOINT 360™ - FEEDBACK ASSESSMENT
Quantify a leaderís competencies in 18 critical dimensions through the unique perspective of peers, managers, direct-reports, and customers. Accelerate performance improvement by rapidly identifying training needs. Predict success in the workplace: thinking and reasoning abilities, behavioral traits and occupational interests. Create ideal profiles for specific positions and easily match the best candidates to the jobs.
RESPONSIVE MANAGEMENT™
Empower others to reach their potential and contribute more productively to the organization.
ORGANIZATIONAL MANAGEMENT ANALYSIS™
Evaluate the combined competencies of all the team members to provide insight into the overall strengths and deficiencies of the management team. Promote alignment with the corporate vision, mission, purpose, and strategic goals, amongst all team members.
RESULTS ⇒ Motivating Performance
THE PROFILE XT™ - FOR MANAGING AND COACHING PERFORMANCE
Positively coach and motivate employees using objective information about their abilities and understand how these relate to the business performance goals.
THE TRUST FACTOR
Create WIN-WIN relationships through effective collaboration skills that build interdependence.
RELENTLESS EXECUTION™
Create alignment and cohesiveness within the executive team to insure that strategies and objectives are reached.
LEADING PEOPLE THROUGH CHANGE
Guide teams and individuals through navigating change to minimize stress and maintain business focus.
RIGHT START™
Learn the essential skills of becoming a more valued and valuable member of the organization through proactive self-management.