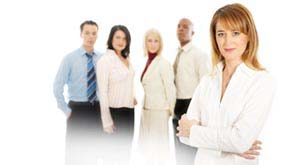 Responsive Management™
Practical Leadership Skills for Managers and Supervisors

In this program, managers learn the essential skills needed for managing, motivating and mentoring employees. Excellent management skills, that develop future leaders, are the hallmark of high-performing organizations. Managers learn how to empower employees and to set performance expectations. They also learn how to successfully conduct a meaningful performance review that leads to positive improvements.

Responsive Management meets the challenge of creating the best possible front-line leaders.
Develop managers that inspire and motivate.
RESULTS - BENEFITS:
Develop excellent leaders
Create consistent management practices
Foster a cohesive workforce
Establish performance feedback systems
RESOLVES ISSUES WITH:
Performance evaluations
Task delegation
First-time managers
Morale and motivation
WHO SHOULD PARTICIPATE?
Managers and supervisors with varying levels of experience and background.
New managers and supervisors that want to jump-start their management careers.
Newly hired or transferring managers that are eager to make an outstanding transition.
Ineffective managers, supervisors or team leaders.
This is essential for any front-line manager that must improve employee productivity and motivation.
FORMAT:
This program is comprised of four ½ day modules that may be delivered in successive days or during ½-day workshops at spaced-intervals (weekly or monthly). Additional material, to further enhance leadership performance, may easily be added, such as: Communication Skills, Time Management, and Team Building.

Participants enjoy the mixture and pace of classroom lecture, interactive exercises and team activities.

Workbooks and other materials are included.