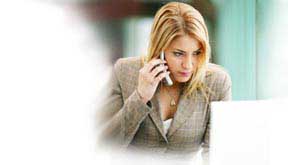 Customer Service Means Results

High-performing organizations know that keeping a customer or client is far easier than establishing a new one. And satisfied customers are the best referral source for new business. Out-pace the competition by differentiating your customer service from all the rest.
Customer Service Delivered
Sets high-standards for all customer interactions
Understands and addresses the customers' needs, proactively
Establishes vital relationships
RESULTS ⇒ Exemplary Customer Service
CUSTOMER SERVICE: CREATING A STRATEGIC ADVANTAGE
Meet the customers' expectations and consistently provide quality service to gain a competitive advantage. Never lose a customer due to poor service quality.
CUSTOMER SERVICE PERSPECTIVE™
Provide quality customer service by identifying and coaching key behaviors that influence positive customer relations.
IN PURSUIT OF GOALS
Initiate a step-by-step goal-setting process to achieve your vision and meet your objectives.
SKILLS FOR HANDLING PROBLEM PEOPLE
Improve morale and reduce stress by stopping inappropriate or disruptive behavior quickly and directly.
RESULTS ⇒ Productive Interpersonal Skills
REWARDING COMMUNICATIONS™
Speak with integrity and foster mutual understanding through building relationships based upon trust.
REAL TEAMWORK™
Chart the course for developing self-directed teams to create a high performing and cohesive workplace.
THE TRUST FACTOR
Create WIN-WIN relationships through effective collaboration skills that build interdependence.