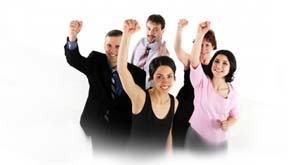 Teams Create Results

High-performing teams create results that greatly exceed the additive performance of their individual members. The team that is aligned around a clear purpose, faced with a substantial challenge, and armed with a strong commitment to the goal and each other, will achieve no less than exceptional results.
Teams that Succeed
Enables effective decision-making and conflict resolution
Instills candid communications skills
Improves individual productivity and skill balance
RESULTS ⇒ Team Development
REAL TEAMWORK™
Chart the course for developing self-directed teams to create a high performing and cohesive workplace.
PROFILES TEAM ANALYSIS™
Improve team effectiveness by assessing 12 characteristics that impact team performance and collaboration. Learn to capitalize on individual team membersí strengths and quickly fill skill deficiencies.
THE TRUST FACTOR
Create WIN-WIN relationships through effective collaboration skills that build interdependence.
RESULTS ⇒ Great Communication Skills
REWARDING COMMUNICATIONS™
Speak with integrity and foster mutual understanding through building relationships based upon trust.
RESOLVING CONFLICT THE RIGHT WAY
Turn losing confrontations into WIN-WIN successes by understanding the elements of conflict and means to resolve it effectively.
SKILLS FOR HANDLING THE PROBLEM PEOPLE
Improve morale and reduce stress by stopping inappropriate or disruptive behavior quickly and directly.
RESULTS ⇒ Personal Productivity
RENEW ONESELF™
Achieve personal leadership excellence through a program of self-mastery, defining purpose and creating commitment to pursue one's goals.
PROFILES PERFORMANCE INDICATOR™
Measure the five key personality factors and their impact on business success. Identify the best ways to lead, motivate and reward individual employees.