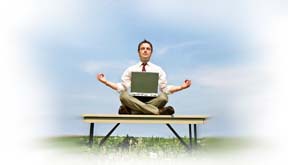 Renew Oneself™
Achieving Personal Excellence through Self-Mastery

Learn a set of principles that will change the way you view your life and how to integrate your professional and personal goals. Your self-awareness will be heightened, your personal effectiveness will improve and your confidence in handling adversity will be strengthened. Learn to make choices that lead you toward your goals while remaining true to your values.
Lead yourself to your destiny through proactive choices.
RESULTS - BENEFITS:
Achieve balance
Attain your goals
Live responsibly in the present
Be proactive
RESOLVES ISSUES WITH:
Values clarification
Time management
Blame and fault-finding
Lost opportunities
WHO SHOULD PARTICIPATE?
Anyone who desires to become more effective and productive.
Those individuals that want to better integrate their professional and personal lives.
Employees that are close to "burn-out".
Leaders that are eager to be role-models for others.
This program is particularly engaging for intimate work teams that seek to coach each other in improving their individual and collective effectiveness.
FORMAT:
This program consists of (8) workshops, that are 3-4 hours each. The workshops are most effectively delivered in half-day sessions, spaced weekly, bi-weekly or monthly; thereby allowing for accountability exercises to be completed between sessions. Accountability partners and coaching can be added to generate change more quickly and effectively. Each workshop involves stimulating discussions, personal journaling, and experiential learning activities. The program may be delivered more concisely in a retreat format.

Training materials, workbooks and other materials are included.