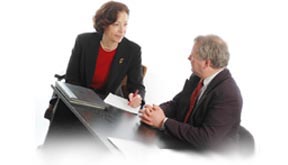 Inspire To Achieve Results

Executives and senior leaders inspire their organizations to meet the challenges of a changing business environment. The superb leader engages and aligns the entire organization around meaningful goals.
Quest for Leadership Excellence
Creates a shared vision, mission and direction
Develops a culture of collaboration and mutual respect
Invests in the development of the entire organization
RESULTS ⇒ Excellence as a Leader
LEADERSHIP LADDER™
Enhance leadership effectiveness through this multi-tiered, self-directed development program centered on 18 critical performance skills. Skill gaps are addressed through a customized, on-line training curriculum.
REFLECTIVE LEADERSHIP™
Lead others by example -pursue a vision, with passion, that will unleash the commitment and motivate the entire organization.
THE PROFILE CHECKPOINT 360™ - FEEDBACK ASSESSMENT
Quantify a leaderís competencies in 18 critical dimensions through the unique perspective of peers, managers, direct-reports, and customers. Accelerate performance improvement by rapidly identifying training needs. Predict success in the workplace: thinking and reasoning abilities, behavioral traits and occupational interests. Create ideal profiles for specific positions and easily match the best candidates to the jobs.
RESULTS ⇒ Effective Strategic Planning
HIGH PERFORMANCE STRATEGY: COMPETING TO WIN
Create a core ideology and define your organization's strategic direction to meet the challenges of the business environment. Set performance goals that focus on activities vital to your business' success.
RELENTLESS EXECUTION™
Create alignment and cohesiveness within the executive team to insure that strategies and objectives are reached.
ORGANIZATIONAL MANAGEMENT ANALYSIS™
Evaluate the combined competencies of all the team members to provide insight into the overall strengths and deficiencies of the management team. Promote alignment with the corporate vision, mission, purpose, and strategic goals, amongst all team members.
RESULTS ⇒ High Performance Workforce
PROFILE XT™ - FOR SUCCESSION PLANNING
Insure that the best possible candidates are identified early for promotion to key positions. Use objective data to predict future performance in a more demanding or different role.
READY-AIM-HIRE™
Attract and retain top talent, avoiding the disruptions of hiring the wrong person. Build an organization with the right people in the right positions.
THE TRUST FACTOR
Create WIN-WIN relationships through effective collaboration skills that build interdependence.