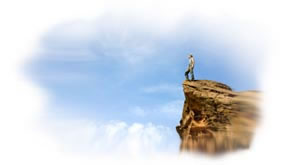 Reach Outward

Effective leaders influence others to reach their goals and go beyond. Leading others effectively requires moving away from control to empowerment -- a commitment to lead from "the balcony."
Leadership of Others
Establishes collaboration and teamwork to accelerate growth
Sets high standards and expectations for flawless execution
Fosters candid communication that breeds mutual respect
RESULTS ⇒ Motivating Teamwork
REAL TEAMWORK ™
Chart the course for developing self-directed teams to create a high performing and cohesive workplace.
PROFILES TEAM ANALYSIS ™
Improve team effectiveness by assessing 12 characteristics that impact team performance and collaboration. Learn to capitalize on individual team membersí strengths and quickly fill skill deficiencies.
THE PROFILE XT™ - FOR MANAGING AND COACHING PERFORMANCE
Positively coach and motivate employees using objective information about their abilities and understand how these relate to the business performance goals.
RESULTS ⇒ Flawless Execution
RESPONSIVE MANAGEMENT ™
Empower others to reach their potential and contribute more productively to the organization.
PROFILES PERFORMANCE INDICATOR ™
Measure the five key personality factors and their impact on business success. Identify the best ways to lead, motivate and reward individual employees.
IN PURSUIT OF GOALS
Initiate a step-by-step goal-setting process to achieve your vision and meet your objectives.
RESULTS ⇒ Candid Communications
REWARDING COMMUNICATIONS ™
Speak with integrity and foster mutual understanding through building relationships based upon trust.
SKILLS FOR HANDLING PROBLEM PEOPLE
Improve morale and reduce stress by stopping inappropriate or disruptive behavior quickly and directly.
THE TRUST FACTOR
Create WIN-WIN relationships through effective collaboration skills that build interdependence.