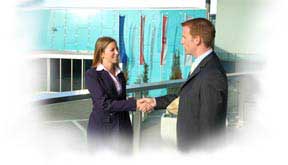 Sales Delivers the Results

The outstanding sales professional does not sell, but motivates the buying decision with your customers and clients. Building credibility, by offering meaningful solutions to your customersí problems, are the hallmarks of the high-performing sales team.
Exemplary Selling Skills
Accelerate an efficient sales process
Refine key sales skills and behaviors
Build mutual trust and rapport yeilding win-win agreements
RESULTS ⇒ Essential Skills for Sales
PRINCIPLES OF PARTNERSHIP SELLING
Bridge your company's offerings and your customers' needs in order to build long-term, profitable relationships.
CORE SKILLS FOR SALES AND MARKETING
Master the sales process from lead-generation to closing by learning how to effectively communicate, plan, and leverage time, in order to create a sustainable sales funnel.
PROFILES SALES INDICATOR™
Select, train and manage sales professionals by evaluating 5 key qualities the predict performance in seven critical sales behaviors.
RESULTS ⇒ Sales Team Development
IN PURSUIT OF GOALS
Initiate a step-by-step goal-setting process to achieve your vision and meet your objectives.
PROFILES PERFORMANCE INDICATOR™
Measure the five key personality factors and their impact on business success. Identify the best ways to lead, motivate and reward individual employees.
PROFILES TEAM ANALYSIS™
Improve team effectiveness by assessing 12 characteristics that impact team performance and collaboration. Learn to capitalize on individual team membersí strengths and quickly fill skill deficiencies.
RESULTS ⇒ Customer Relationship Management
CUSTOMER SERVICE: CREATING A STRATEGIC ADVANTAGE
Meet the customersí expectations and consistently provide quality service to gain a competitive advantage. Never lose a customer due to poor service quality.
EFFECTIVE COMMUNICATIONS
Learn communication principles and practices that create open, candid and assertive dialog with co-workers, customers and managers.
SKILLS FOR HANDLING PROBLEM PEOPLE
Improve morale and reduce stress by stopping inappropriate or disruptive behavior quickly and directly.