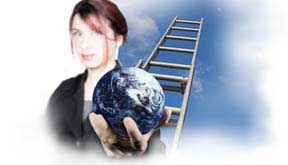 Leadership Ladder™Achieving Leadership Excellence - Feedback Assessment

This one-of-kind leadership development program is ideally suited for busy managers and executives that need to further refine their leadership behaviors whilst maintaining a hectic schedule. This is a participant-led, multi-stage program that begins with a self-discovery step using The Profile XT Ė Total Person assessment and the Profiles Performance Indicator assessment. This step, on the ladder, provides necessary insights to the individualís thinking style, behavioral traits, personality style and occupational interests.

During the next step, the participantís leadership skills, in 18 critical areas, are assessed using the Checkpoint 360 multi-rater feedback tool. The sponsoring manager and participant work together to determine which of the 18 skills are most important to achieving success in their current leadership role. Then peers, direct-reports, customers and superiors, of the participant, are asked to provide candid, confidential feedback on this personís leadership behaviors. The Checkpoint 360 yields accurate and actionable information to further coach and train the leader in the skills that need improvement.

Step 3 of the Leadership Ladder is selecting 1 or 2 critical skill gaps identified in the Checkpoint 360 data that, if improved, would make a significant positive impact on the individualís leadership performance. Using an on-line training tool, The Skillbuilder Series, the participant launches a self-paced learning program. This process is guided by an executive coach or internal mentor.

The final step of the Leadership Ladder is performing another Checkpoint 360 assessment to measure improvements in the participantís leadership skills.

To promote accountability, each participant works closely with leadership coach to mentor them through the process. Furthermore, they are assigned to review progress with their sponsoring manager. In this way, steady and significant progress is made toward the intended performance goals.


Reach your Leadership potential Ė conveniently and at your personal pace.
RESULTS - BENEFITS:
Create exceptional leaders
Promote training amongst senior personnel
Minimize workplace disruptions
Provide personalized coaching
Place ideal people in key positions
RESOLVES ISSUES WITH:
Lack of leadership training
Managers that manage but donít lead
Staffing senior positions
Poor succession planning
WHO SHOULD PARTICIPATE?
Executives and senior leaders.
Supervisors, managers and team leaders who direct the work of others.
New managers and supervisors.
Employees being considered for promotion to leadership roles.
Inexperienced or ineffective managers.
This exemplary program will have significant results on the quality of your leaders.
FORMAT:
See description above.
Time required per participant: Elapsed time is generally 12 months.
Participantís time is less than 4 hours per month.
Stage-repetition learning and accountability exercises greatly enhance retention and promote rapid improvement.

This program is ideally suited for a single individual in the organization or an entire class. If an entire class participates, then the Reflective Leadership classroom training program is typically integrated into the The Leadership Ladder.