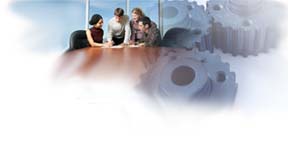 Organizational Management Analysis™

This unique analytical tool evaluates the overall leadership performance of key management teams. Specifically, the leadership teamís commitment and alignment with the corporate strategy and goals are distinguished. To achieve these results, each management team member participates in a 360 multi-rater assessment, which provides feedback from those who observe the individualís performance, including peers, direct-reports, bosses, and customers. When this data is combined, for an executive or leadership team, powerful insights are gained that identify areas where efforts and skills are not aligned. It allows senior management to chart a course for organizational development that meshes with the overall business strategy.


Fiercely maintain organizational alignment to achieve flawless execution.
RESULTS - BENEFITS:
Achieve excellence in management
Insure alignment with corporate strategy
Create interdependent teams
Promote collaboration amongst senior leaders
Create stronger leadership teams
RESOLVES ISSUES WITH:
Imbalance on the leadership team
Trust amongst senior leaders
Consistency in management practices
Organizational communications
Training leaders
WHO SHOULD PARTICIPATE?
All senior leaders and executives.
Management teams.
This tool outlines the factors impacting organizational effectiveness.
FORMAT:
For each team member, a 360 feedback assessment is completed by multiple participants.
Individual team members also assess themselves.
Time required per participant: 25-35 minutes

A comprehensive, full-color report is compiled for each of the individual team members, from all the participantsí responses.

The team analysis report details the unique attributes of the entire leadership team, in actionable terms. The team report forms a benchmark for tracking progress of organizational development activities.