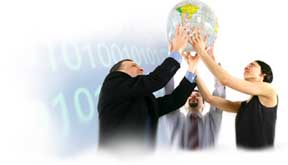 Profiles Team Analysis™

This tool facilitates building a high-functioning team by accurately analyzing the collective strengths and possible deficiencies within the team. Effective teambuilding means quickly learning how to overcome differences in style, personality, and skills; and further, how to utilize each team memberís individual strengths and aptitudes. The critical role of team leader is strengthened by understanding the core styles of their team and how to capitalize on the teamís diversity in achieving itís goals and objectives.
Rapidly move your team into a high-performing, energized group to deliver results.
RESULTS - BENEFITS:
Creates rapid progress toward goals
Capitalizes on every individualís talents
Enhances team leaderís effectiveness
Establishes positive norms
Builds rapport quickly
RESOLVES ISSUES WITH:
Communication styles and trust
Interpersonal conflict
Skill imbalances
Group decision-making
Problem-solving
WHO SHOULD PARTICIPATE?
Teams and their leaders.
Senior leadership teams.
Project managers and their teams.
Department heads and their direct-reports.
Teams that are geographically dispersed.
This assessment is particularly effective for newly formed teams and those with new members.
FORMAT:
Each team member individually participates in a self-administered assessment taken via the internet.
Time required: 15-20 minutes per individual
The following report is available on-line, immediately:
Individual Report: provides each team member with valuable feedback and information on their teamwork skills. Team members will quickly appreciate and understand each othersí style differences, allowing more rapid progress toward accomplishing the teamís goals.
Team Leader Report: provides a comprehensive analysis yielding insights into the overall skill balance of the team in 12 key team traits. The graphical and text report clearly depicts the teamís areas of strengths and areas for concern. Beyond that, the report provides the team leader with an Action Summary detailing effective steps for managing and supervising this particular team.

This assessment tool is often combined with the interactive training program: Real Teamwork™ to further move the team toward high-performance.