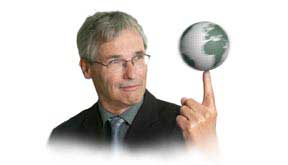 Profiles Checkpoint 360™ - Feedback Assessment

This unique, multi-rater feedback assessment is extremely effective in providing executives and managers with precise information on their leadership effectiveness. This survey provides the individual with meaningful, competency-based performance data from peers, direct-reports, bosses, and even customers.

This statistically sound method is the only legitimate means to truly understand the leadership competencies of your managers, in various circumstances. A total of 18 competency areas are assessed which map to leadership success. Core strengths of the individual are detailed while also providing clear, actionable insights into the areas for improvement that will significantly enhance leadership performance.
Skill clusters that are assessed include:
Communication
Leadership
Adaptability
Task Management
Mentoring
Production
Interpersonal Skills
Personal Developmentility
Drive success by instilling leadership qualities throughout your entire organization.
RESULTS - BENEFITS:
Develop leaders early
Improve manager's effectiveness
Create leadership role-models
Promote personnel development
Place ideal people in key positions
RESOLVES ISSUES WITH:
Inept leaders
Coaching and counseling
Manager burn-out
Trust and communications
Managers' productivity
WHO SHOULD PARTICIPATE?
All senior leaders and executives.
Supervisors, managers and team leaders who direct the work of others.
New managers and supervisors.
Employees being considered for promotion to leadership roles.
This outstanding tool charts the course for good managers to become great leaders.
FORMAT:
Each participant completes an evaluation for the individual being assessed, via the internet. The individual also assesses him or herself.
Time required per participant: 25-35 minutes

A comprehensive, full-color report is compiled from all the participants' responses. Participant responses (other than "the boss") are completely anonymous – other than their functional relationship with the individual.

Narrative descriptions of the results, as well as charts and graphs, provide easy to understand information on performance effectiveness of the individual. The report also includes a special personal growth section that coaches the individual on areas for improvement.

This survey is often combined with The Leadership Ladder™, which combines an on-line training curriculum matched to the skills that were highlighted for improvement.