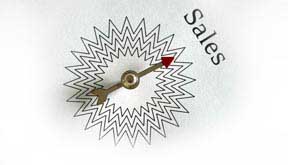 Profiles Sales Indicator™

This assessment objectively measures 5 critical characteristics that can accurately predict sales performance and success. Develop a top performing sales team by hiring, promoting and training those individuals that have the abilities and potential for outstanding sales careers. Match candidates that display the characteristics of top performers, such as prospecting, sales drive, self-reliance, closing competencies, to your sales team and realize the impact on profitability.

This instrument can be used to build a customized profile from your current top-producing sales professionals and accurately match future candidates to this unique profile, thereby insuring that every sales team member will deliver outstanding results.
Move your sales team from good to great.
RESULTS - BENEFITS:
Higher sales volumes
Self-reliant sales team
Less turn-over on sales team
Greater sales productivity
RESOLVES ISSUES WITH:
Ineffective prospecting
Failure to close sales
Poor hiring decisions
Sales team training
WHO SHOULD PARTICIPATE?
All employees that are in sales functions or market development roles.
Sales managers and team leaders.
Those involved with hiring and placement into the sales functions.
Candidates for employment as a sales professional.
This tool is ideal for managing, training and developing sales professionals at all levels.
FORMAT:
Self-administered assessment taken via the internet.
Time required: approximately 20 minutes
The following report is available on-line, immediately:
Individual Report: provides the employee with information for self-development and training.
Placement Report: provides an in-depth analysis matching the candidate or employee to a benchmark "standard" pattern that is created specifically for a particular sales function. This report clearly defines the degree-of-fit of the individual to the job, providing unique interview questions and coaching comments.