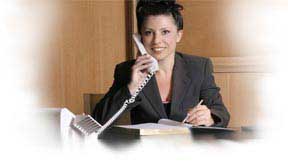 Customer Service Perspective™

This assessment enables you to consistently deliver the desired level of customer service throughout your company. Key behavioral traits, that focus on the customer relationship, are measured; these include - courtesy, flexibility, tact, empathy, trust, conscientiousness and conformity. In addition, it evaluates the employees' proficiencies in verbal and mathematical skills; which are keys to effective communications.

This assessment is uniquely customized to measure compliance with your organization's own customer service policies and attitudes; thereby guaranteeing consistency throughout your entire business.

Gain a competitive advantage with exemplary customer service.
RESULTS - BENEFITS:
Higher customer retention
Greater customer satisfaction
Stronger customer relationships
Create customer-centric work environment
Place ideal candidates in customer service roles
RESOLVES ISSUES WITH:
Service quality and consistency
Training new employees
Maintaining high service standards
Managing employees
WHO SHOULD PARTICIPATE?
All employees that have direct contact with customers and clients.
Also employees that serve internal customers.
Any team or group that desires to improve their vital relationships with customers.
Candidates for employment in any customer service job-function.
This tool is particularly well-suited for retail businesses, call centers, service industries, and professional service firms.
FORMAT:
Self-administered assessment taken via the internet.
Time required: 20 minutes
The following report is available on-line, immediately:
Individual Report: provides the employee with information for self-development and training.
Coaching Report: provides the manager with specific, individual coaching information and training opportunities for each employee.
Placement Report: provides an in-depth analysis matching the candidate or employee to a benchmark "standard" pattern that is created specifically for a particular customer service position. This report clearly defines the degree-of-fit of the individual to the job, providing unique interview questions and coaching