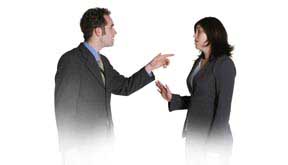 Resolving Conflict the Right Way

Participants will learn how to turn losing confrontations into win-win successes. Various styles of conflict resolution will be examined, as well as means of preventing conflict and minimizing friction in the workplace. Through practice, the participants will experience effective methods of resolving serious disagreements.
RESULTS - BENEFITS:
Enables employees to resolve conflict
Minimizes managers time and attention
Creates healthy working relationships
RESOLVES ISSUES WITH:
Escalating tensions and conflicts
Fault-finding and blame
Workplace animosities
WHO SHOULD PARTICIPATE?
Employees that work in a highly interactive environment.
Human resource personnel that are faced with the outcomes of interpersonal conflict.
Employees that demonstrate poor conflict management skills.
Team leaders and managers that want to be more direct in facing and resolving conflict.
This training is well-suited for close-knit, but poorly functioning teams.
FORMAT:
This program is a brief ½ day session that uses group discussions and role-plays to enhance learning and retention. This program is often combined with other courses on effective communications and positive impact.

Workbooks, Training manuals and hand-outs are provided.