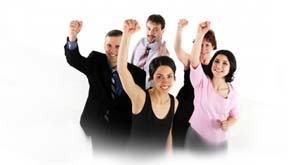 Power of Positive Impact

Participants, in this training course, learn how to become the type of employee that employers fight to keep. Participants are shown how technical competencies, job skills, and tenure are not sufficient to differentiate themselves from others. The outstanding employee must also master a range of interpersonal and self-management skills to be truly competitive in the workplace.
RESULTS - BENEFITS:
Develops a high-performing workforce
Fosters leadership development
Creates personal accountability
RESOLVES ISSUES WITH:
Workplace morale
Command & Control management
Negativism, complaining, whining
WHO SHOULD PARTICIPATE?
Any employee that desires to improve their personal effectiveness in the workplace.
Employees that are seeking leadership and management responsibilities.
Employees that are difficult to manage.
Team leaders and managers that want to foster a proactive environment.
This training is part of a set of core competencies necessary for high-performing organizations.
FORMAT:
This program consists of seven, ½ day modules covering topics from attitude, personal accountability, career-life balance, managing change, personal productivity; communication skills, and recognizing leadership opportunities.

The 3-4 hour modules may be delivered on successive days or in spaced-intervals (weekly or monthly). This program may be shortened to fewer modules depending on the training objectives desired.

All modules involve classroom lectures, group discussion and experiential games to stimulate learning and enhance retention.

Workbooks, Training manuals and hand-outs are provided.